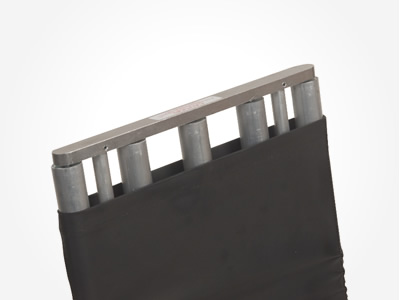 Patient Transfer Devices
The Transtrack™  allows the patient to be transferred from one platform to another with minimal effort from the caregiver.  Simply place the Transtrack™ between the two surfaces and slightly under the patient.  Guide the patient over the Transtrack™.   The Transtrack™ will roll, but the patient will roll further completing the patient transfer.
Available in 67in. or 25in. length.
Product Features
– Designed to assist staff members with patient transfer
– Minimizes physical lifting of patients
– Allows effortless transfer from multiple patient platforms; hospital bed, gurney, X-ray table, exam table, operating room table and cast table
Optional Accessories
| | |
| --- | --- |
| 902 | Conductive cover for 67" Transtrack™ (170 cm) |
| 903 | Conductive cover for 25" Halftrack™ (63.5 cm) |
| 904 | Trackrack™, designed to be mounted on a wall or door for convenient storage of one Halftrack™ or Transtrack™ |
Warranty:   Mizuho OSI guarantees all of its products for a period of one (1) year from date of invoice for defects in material and workmanship with the exception of products which are misused, altered or damaged.
Order Information and Warranty
| | |
| --- | --- |
| 900 | Transtrack™ Patient Roller 67" (170 cm) |
| 901 | Halftrack™ Patient Roller 25" (63.5 cm) |
Request Information