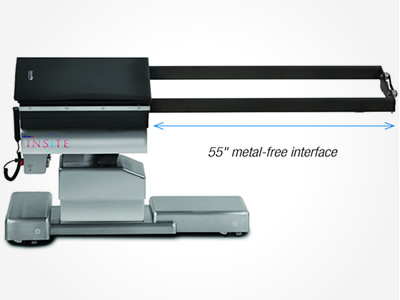 Insite®
A Multi-Procedural Surgery Table with Superior Imaging Access and Excellent Surgical Access
Dedicated to giving surgeons better imaging access to their patient during many types of procedures, including those requiring total access to the spine. INSITE® offers a radiolucent, cantilevered frame equipped with customizable positioning pads and components.
Read More
Product Overview
Unobstructed Imaging:  55" (140 cm) No Metal Zone
Interfaces with the BodyTom®, a portable, full body, multi-slice CT scanner
Unrestricted O-arm® and C-arm access
Prone Positioning Advantages:
– Total spine access
– Open frame design reduces vena cava compression, minimizes bleeding, improves visualization at the  surgical site
– Customizable pad and component placement to meet individual patient needs
Positioning Flexibility:
– Patient head orientation can be at the cantilever or the pedestal end
Procedures:
Spine:  Cervical to Sacrum prone positioning on open frame
Orthopedic:  Foot/Ankle, trauma where traction is not required – positioning on Supine Top
Pain Management
General Surgeries without flex required
Imaging procedures utilizing the BodyTom®, O-arm® or 3D C-arm
BodyTom® is a registered  trademark of NeuroLogica Corp.; O-arm® is a registered trademark of Medtronic, Inc.