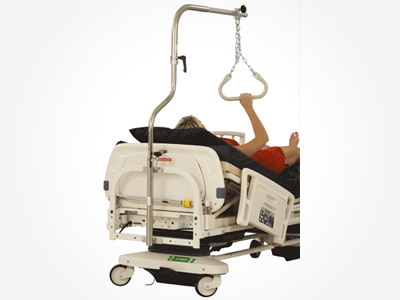 Patient Helper For Stryker Secure II And S3
The Mizuho OSI Patient Helper is designed to allow the patient to take additional control of their own mobility while the nurse does less physical moving of the patient.  Features include convenient caregiver access to adjustments and the ability to lock the trapeze in place where it is most beneficial for the patient.
The Mizuho OSI Patient Helper may be quickly removed from the bed with a turn of a knob.  This means quick and clear access to the patient's head in an emergency.  You can also quickly remove from one bed to place on another.
Product Features
The Mizuho OSI Patient Helper is designed to assist patient mobility. The Patient Helper is particularly useful to assist with repositioning in bed, transfers to transport platforms and bed egress.
The Mizuho OSI Patient Helper requires an adapter bracket from Stryker Medical, P/N 3001-333-000 for the Secure II and 3006-333-000 for the S3. Patient Helper Sleeve P/N 3423-1 is included with 3423.
– 200 lb. (90.7kg) safe working load
– Steel construction
– 72in. (183cm) height. Fits through doorways, elevators and operating room entrance
– Weight 29 lbs. (13kg), two piece design for light weight assembly
– 180 degree swivel allows the Trapeze to be locked in position most advantageous for patient assist
– Trapeze swivel feature allows for minimal interference for nursing care, X-ray or TV
– Swivel handle is conveniently located in caregiver's reach, not behind the bed
– Assembles in seconds
– Easily moved from one bed to another in seconds with a turn of the Quick Release Knob
– Easily removed in seconds to allow for access to the patient from the head end of the bed
Order Information and Warranty
Part Number 
Description
Qty Required
 3423
 Mizuho OSI Patient Helper
1
 3423-1
 Patient Helper Sleeve Only
 1
 (SII) 3001-333-000
(S3) 3006-333-000
 Patient Helper Requires Adapter Bracket From Stryker Medical
1
Warranty:   Mizuho OSI guarantees all of its products for a period of one (1) year from date of invoice for defects in material and workmanship with the exception of products which are misused, altered or damaged.
Product Resources
Assembly Instructions for 3423 Patient Helper
FAQs:
Q: What do I need to attach a Mizuho OSI Patient Helper to my Stryker Secure II or S3?
A: You need two items:
Stryker Bracket 3001-333-000 for the Secure II or 3006-333-000 for the S3.
Adapter Sleeve.  The Adapter Sleeve is provided standard with Mizuho OSI Patient Helper P/N 3423.  The Adapter Sleeve may also be purchased separately from Mizuho OSI using P/N 3423-1.
Q: What is the weight capacity of the Mizuho OSI Patient Helper?
 A: 200 lb. (90.7kg) safe working load.  Remember that Patient Helpers are assist devices and are not intended to suspend a patient off the mattress.  As such, larger patients receive benefit from the Mizuho OSI Patient Helper.  As an example, a 300 lb patient applying 2/3 their body weight to the trapeze will receive the benefit of repositioning in bed, assisting bed egress or patient mobility.
Q: How tall is the Patient Helper? Will it fit through doorways?
A: The Mizuho OSI Patient Helper has a low profile of 72".  The actual height varies with bed adapters, but the overall profile is the lowest on the market.  To ensure clearance through doorways lower the bed height when transporting.
Q: If I have more questions, who should I call?
A: Please contact your local Mizuho OSI sales representative
Request Information