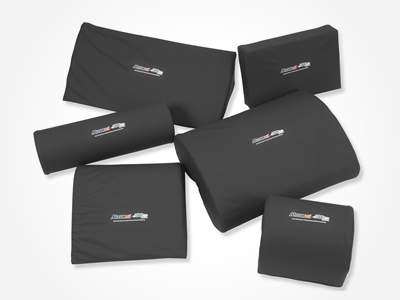 Tempur-Pedic® Medical Replacement and Positioning Pads
Tempur-Pedic® Medical Pressure Equalization Pads are available in six diverse shapes to meet your challenging positioning needs.  These positioning devices quickly envelop contact points with a fluid density that reduces peak pressures, yet holds the patient in the desired position.  With closed seams and no zipper these devices can be utilized in any position. Available individually or as a complete set.
Product Features
All pads have closed seams, no zipper. All are made with 4-way stretch cover fabric so they can be utilized in any position.
Order Information and Warranty
6950 6 pc. Tempur-Pedic® Medical O.R. Pad Set (includes 2 knee blocks, basic roll, spinal wedge, cradle block and rectangular pad)
| | |
| --- | --- |
| 6950-01 | Tempur-Pedic® Medical Knee Block A Size 10"x 8"x 8" (25cm x 20cm x 20cm) |
| 6950-02 | Tempur-Pedic® Medical Knee Block B Size 14"x14" 4" (36cm x 36cm x 10cm) |
| 6950-03 | Tempur-Pedic® Medical Basic Roll Size 18"L x 6" diameter (46cm x 15cm diameter) |
| 6950-04 | Tempur-Pedic® Medical Spinal Wedge Size 24"x 10"x 6.75" (61cm x 25cm x 17cm) |
| 6950-05 | Tempur-Pedic® Medical Cradle Block Size 20" x 16" x 6" (5cm1 x 41cm x 15cm) |
| 6950-06 | Tempur-Pedic® Medical Rectangular Pad Size 14" x 9" x 3" (36cm x 21cm x 8cm) |
Warranty:
All Tempur-Pedic® Medical Table Pads come with a 2 year warranty against manufacturer defect
Request Information