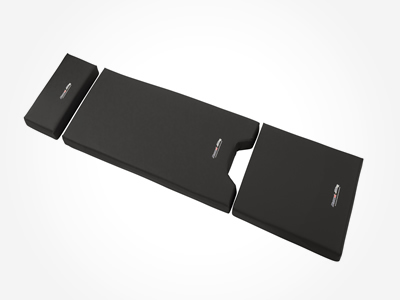 STERIS® / AMSCO®
Three Piece Pad With Perineal Cut-Out For STERIS® / AMSCO® 3080, 3085 and STERIS® 4085(C-Max) Surgical Tables
Engineered specifically for your STERIS® / AMSCO® General Surgery Tables by Tempur-Pedic® Medical. Tempur-Pedic® Pads utilize Progressive Resistance Technology. The more deeply a patient compresses the pad, the more it envelops the contact points with a fluid density that reduces peak pressures. This allows  pressure redistribution while remaining optimally comfortable to the patient. STERIS® and AMSCO® are registered trademarks of the STERIS Corporation.
Product Features
IMPROVES PATIENT CARE
Equalizes pressure load against the body
Reduces incidence of nosocomial pressure ulcers
Enhances patient comfort
SUPPORTS SURGICAL TEAM PERFORMANCE
Compatible with imaging environments – radiolucent, MRI safe
Waterfall edge
4-way stretch cover, vapor permeable
Will not absorb or bleed energy
Moisture resistant
Non-skid bottom
Easy cleaning with standard disinfectants
ADVANCED TEMPUR-PEDIC® MEDICAL MATERIAL
Firmness adjusts naturally to body temperature
Pads return to original shape after use
Seams sewn and welded
Latex free, anti-microbial materials
Hypo-allergenic
Flame barrier complies with TB133
Product Specifications
Three Piece General Surgery Table Pads consist of Head, Back and Foot sections.
Guidelines for Pad Thickness as Related to Patient Weight Capacity of Table
2″ pad up to 500 lb. (228 kg.) patient weight capacity
3″ pad 500 lb. – 700 lb. (228 – 318 kg.) patient weight capacity
3.5″ pad 700 lb. and greater (> 318 kg.) patient weight capacity
Order Information and Warranty
69402 – 2″ 3 Piece Tempur-Pedic® Medical Pad w/Perineal Cut-Out for STERIS® / AMSCO® 3080, 3085 Tables
| | |
| --- | --- |
| 69402H | 2″ Head Section Only |
| 69402B | 2″ Back Section Only |
| 69402F | 2″ Foot Section Only |
69403 – 3″ 3 Piece Tempur-Pedic® Medical Pad w/Perineal Cut-Out for STERIS® / AMSCO® 3080, 3085 Tables
| | |
| --- | --- |
| 69403H | 3" Head Section Only |
| 69403B | 3" Back Section Only |
| 69403F | 3" Foot Section Only |
694035 – 3.5″ 3 Piece Tempur-Pedic® Medical Pad w/Perineal Cut-Out for STERIS® / AMSCO® 3080, 3085 Tables
| | |
| --- | --- |
| 694035H | 3.5" Head Section Only |
| 694035B | 3.5" Back Section Only |
| 694035F | 3.5" Foot Section Only |
69492 – 2″ 3 Piece Tempur-Pedic® Medical Pad w/Perineal Cut-Out for STERIS® 4085 (C-Max)
| | |
| --- | --- |
| 69492H | 2″ Head Section Only |
| 69492B | 2″ Back Section Only |
| 69492F | 2″ Foot Section Only |
69493 – 3″ 3 Piece Tempur-Pedic® Medical Pad w/Perineal Cut-Out for STERIS® 4085 (C-Max)
| | |
| --- | --- |
| 69493H | 3" Head Section Only |
| 69493B | 3" Back Section Only |
| 69493F | 3" Foot Section Only |
694935 – 3.5″ 3 Piece Tempur-Pedic® Medical Pad w/Perineal Cut-Out for STERIS® 4085 (C-Max)
| | |
| --- | --- |
| 694935H | 3.5" Head Section Only |
| 694935B | 3.5" Back Section Only |
| 694935F | 3.5" Foot Section Only |
Warranty
All Tempur-Pedic® Medical Table Pads come with a 2 year warranty against manufacturer defect
Request Information