Union City, Calif. - April 22, 2021 - Mizuho OSI, a global leader in the manufacturing of specialty surgical tables, pressure management solutions, and table-specific patient care kits, was presented with the California Awards for Performance Excellence (CAPE) 2020 Prospector Recognition by the California Council for Excellence. 
This annual award recognizes sustainable excellence through innovation, continuous improvement, and visionary leadership, and adheres to the Baldrige Framework for Performance Excellence.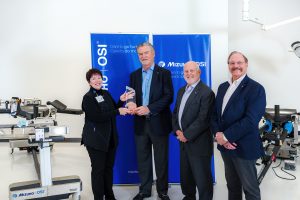 This prestigious honor involves a rigorous, three-month company evaluation process led by top CAPE examiners and overseen by the CAPE Board of Judges. Founded in 1992, California Council for Excellence is a nonprofit organization dedicated to helping California-based organizations achieve world-class results.
"At Mizuho OSI we like to say that innovation is in our DNA. And it is not only about the products we design for the market but also in how we sell, manufacture and support these products with our customers.  We have chosen the Baldrige Criteria as our standard of excellence for our company and are very proud to receive this recognition early in our journey."
The mission of Mizuho OSI to improve outcomes for patients undergoing surgery has been a driving force since the company's founding in the San Francisco Bay Area in 1978. The company has pushed the boundaries of a better surgical experience by collaborating with surgeons and healthcare providers to understand today's surgical needs, uncover problems and inefficiencies in the operating room and develop products that simplify procedures, improve precision, reduce risk and improve outcomes.
About Mizuho OSI
Based in the San Francisco Bay Area, Mizuho OSI® invented the specialty surgery market back in 1978 and continues to be the leading pioneer in the space today. Mizuho OSI sells specialty surgical tables and accessories all over the world designed to improve outcomes in orthopedic and spine surgeries for patients and surgery teams. Mizuho OSI is a wholly owned subsidiary of Mizuho Corporation headquartered in Tokyo, Japan, a leading surgical table manufacturer in Asia. More information is available at www.mizuhosi.com.
Media Contact:   
Donna Lock
Marketing Manager
Email: [email protected]
Phone: 800.777.4674 ext. 387