UNION CITY, Calif. September 8, 2020-- Mizuho OSI®, a leading manufacturer of specialty surgical tables and pressure injury abatement solutions is pleased to announce the acquisition of the Air Barrier System (ABS) from Nimbic Systems, Inc.
The Air Barrier System is an infection control device used in Hip and Spine surgery that protects the surgical site from airborne particulates and pathogens during surgery. The device works by releasing a localized stream of ultra-purified non-turbulent air from a sterile device that is placed next to the incision, thereby providing a cocoon of positive pressure that deflects airborne particulates and pathogens.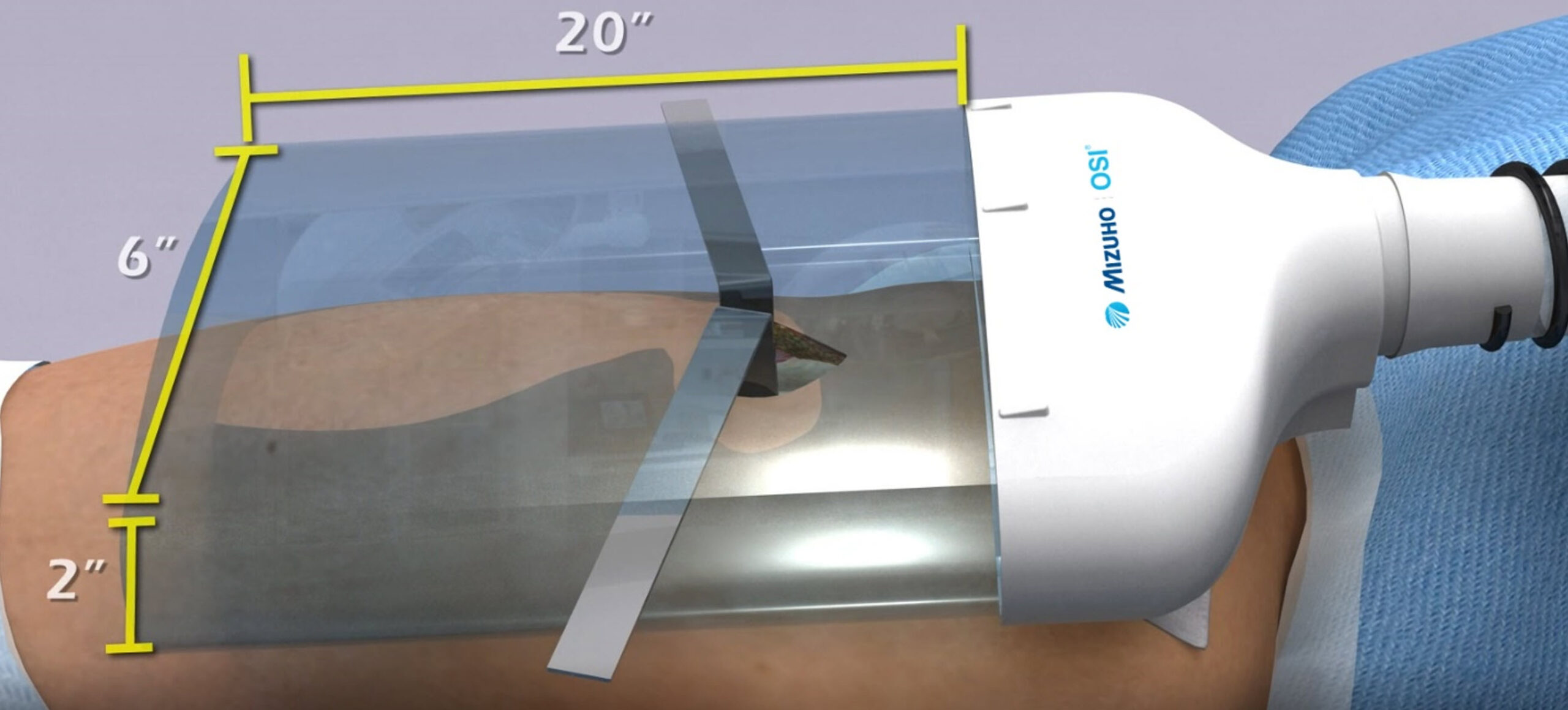 In clinical studies, the ABS reduced bacterial colony forming units (CFUs) near the surgical site by an average of 84% in hip procedures, and an average of 69% reduction of CFUs in spine procedures.
 "The ABS is a unique, effective technology that addresses a costly and important need.  We believe that Mizuho OSI's existing focus on orthopedics, spine and other key surgery specialties matches extremely well with users also needing the ABS device," said Sean Self, CEO, Nimbic Systems. 
"Mizuho OSI's mission is to improve outcomes for patients undergoing surgery, and the Air Barrier's ability to significantly reduce the accumulation of infection causing pathogens at the surgical site matches that goal," said Greg Neukirch, VP of Sales & Marketing, Mizuho OSI. "We are very excited about this product addition and the opportunity to introduce the benefits of the ABS to customers."
About Mizuho OSI
Mizuho OSI® is a U.S. based company and the market leader in specialized surgical patient positioning. Founded in 1978, it remains at the forefront of patient positioning solutions for the operating room, collaborating with top surgeons to develop technologies that are cornerstones in both hospitals and outpatient settings. The company's portfolio includes specialty surgical tables for procedure-specific approaches that improve patient outcomes in spine and orthopedic surgeries and surgical pressure injury abatement products. Mizuho OSI products are sold direct in the U.S. and by the Mizuho Corporation in Japan. Both companies sell their products and solutions world-wide through authorized international distributors. Mizuho OSI is a wholly owned subsidiary of Mizuho Corporation located in Tokyo, Japan, a leading surgical table manufacturer in Asia. More information is available at www.mizuhosi.com and follow us on Twitter, Facebook, and LinkedIn.