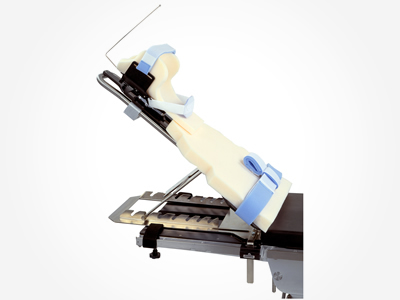 Ultra Shoulder Positioner®
For Arthroscopic and open shoulder surgery
The Ultra Shoulder Positioner® provides a safe, convenient and stable method of maintaining patients in the "beach chair" position for arthroscopic open shoulder surgery and joint replacement. It is designed to easily attach to any general surgery table.
Read More
Product Overview
Headrest wings retract posteriorly creating a totally obstruction-free space around the patient's head for the anesthetist. With the wings in place and head strap positioned, the headrest becomes a secure head support.
The cervical flexion angle for a kyphotic patient is easily accommodated with the adjustable headrest.
The headrest tilts laterally up to 30˚ in either direction.
Product Features
– Minimizes setup tasks
– Eliminates lateral decubitus positioning concerns
– Fits all surgical table models
– Offers effective solution for precise shoulder positioning
– The center mounted support rod assures unobstructed radiolucency at the surgi
Product Specifications
Headrest Translation
| | |
| --- | --- |
| Anterior Range | 5 in. |
| Longitudinal Range | 8.5in. |
| Lateral Tilt | 30° |
| Patient Weight Capacity | 400 lb. |
| Ultra Weight | 29 lb. |
Order Information and Warranty
5358
Ultra Shoulder Positioner Comes with two Patient Care Kits
(Mizuho OSI Model No. 5348).
5345
Patient Care Kit Three per case. (Others available.)
5394
Aluminum Side Rail Socket (Two required.)
5370
Ultra Shoulder Positioner and Cart Complete
5338-24
Shoulder Positioner Cart – This specially designed cart transports the
positioner, accessories and reserve Patient Care Kits.
(The Ultra fits in the same storage cart for the SSPH.)
5338-100
Lateral Support Pad Assembly This specialty pad assembly provides
additional support and prevents the patient from shifting laterally during
the rigors of surgery. (Clark Socket included.)
5338-70
Translating Arm Board may be positioned to provide a
Platform for either arm.
5393
Clark Socket attaches to any OR table.
Warranty: Mizuho OSI guarantees all of its products for a period of one (1) year from date of invoice for defects in material and workmanship with the exception of products which are misused, altered or damaged.
Request Information