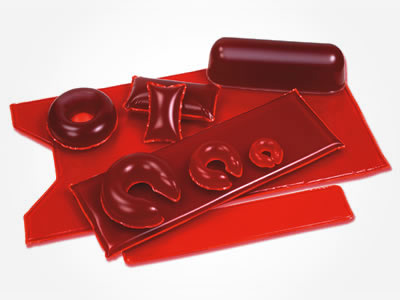 Orange Aid® Gel Pads and Positioners
Bring the added protection of G3 Gel™ to help prevent potential pressure and shear-related complications by distributing pressure and dissipating heat.  These pads are specially constructed to stand up to the rigors of the Operating Room environment.  Impervious to body fluids, they will retain their clean and attractive appearance while requiring a simple cleaning with standard hospital grade disinfectant.  The distinctive orange color helps avoid inadvertent disposal.
Product Features
– Durable, strong
– Non-absorbent
– Easy to clean
– Latex-free
– Reusable
– Will not bottom out
– Evenly distributes weight
– Non-sterile
Order Information and Warranty
Product Resources
General Use, Cleaning and Care
– Using clinical assessment guidelines and objectives identify each patient's potential risk prior to the utilization and placement of Orange Aid® Gel Positioners.
– Orange Aid® may be warmed by placing in a blanket warmer or by placing below a patient warmer.  Do not exceed temperatures of 125°F/51.7°C.
– Do not autoclave, freeze, or microwave.
– Do not puncture, cut or tear Orange Aid® products.
Care of Orange Aid®
– Disinfect gel product between patient uses with standard operating room cleaning solutions that do not contain alcohol.
– Do not use undiluted cleaning solutions.
– Do not allow gel product to soak in cleaning fluids for prolonged periods of time.
– Rinse Orange Aid® Gel with water and wipe dry after cleaning.
– Keep Velcro® attachments free of foreign matter to ensure adequate closure.
Storage
– Store Orange Aid® products flat when possible to decrease the potential for damage; large pads may be folded loosely to avoid creasing.
– Do not store heavy or sharp objects on top of Orange Aid® products.
WARNING: Always use proper body mechanics when lifting heavy items.
Request Information